Enterprise Resource Planning (ERP) software helps in boosting the operational sectors by handling transactional activities such as warehousing, accounting, and customer service.
ERP software also provides an extensive information system that allows for faster and more complete analysis of data spanning an entire company.
Yet when adopting an ERP system, some organisations are hesitant to extend the reach to their accounts departments. Solutions such as Microsoft Dynamics Business Central are ideal as accounting solutions, not only for their advanced finance functionality but also for the way that they are able to utilise data from across all areas of a business.
Below are some of the benefits of ERP accounting software:
Analytics and audit
For a company to remain agile in changing business environments, you need to access and easily interpret all information available to your company.
The absence of an application that can analyse your financial data and link it to data trends elsewhere in your business creates a significant chance of productivity 'blind spots' occurring or opportunities being missed.
In turn, trying to align data from your ERP system with that from a standalone accountancy platform creates working inefficiencies (in terms of the time and effort involved) and risk of human error in the alignment of data.
Using an ERP accounting system will facilitate end-to-end data, making required reporting simple and accurate business intelligence more obtainable.
Tracking assets
Running a successful business requires the monitoring of assets from when they are acquired, how they are used, and when their usage ends.
The main assets include both fixed and current assets that are important for the business to achieve its goals. Physical follow-up of the items can be expensive and tiring. An ERP system can automatically keep track of these items, increasing working efficiency.
An ERP accounting system can assist not only in the tracking of the assets but fluctuations in their pricing (cost of raw materials vs. sale cost), as well as the impact of internal initiatives such as marketing and sales incentives.
Creation of a general ledger
An ERP system takes the role of managing all accounts, including the allocation of funds and liabilities in the company.
Solutions such as Business Central have been designed to compete directly with the abilities of Sage, Xero and Quickbooks, even out-competing them in terms of how financial data can be used for analysis.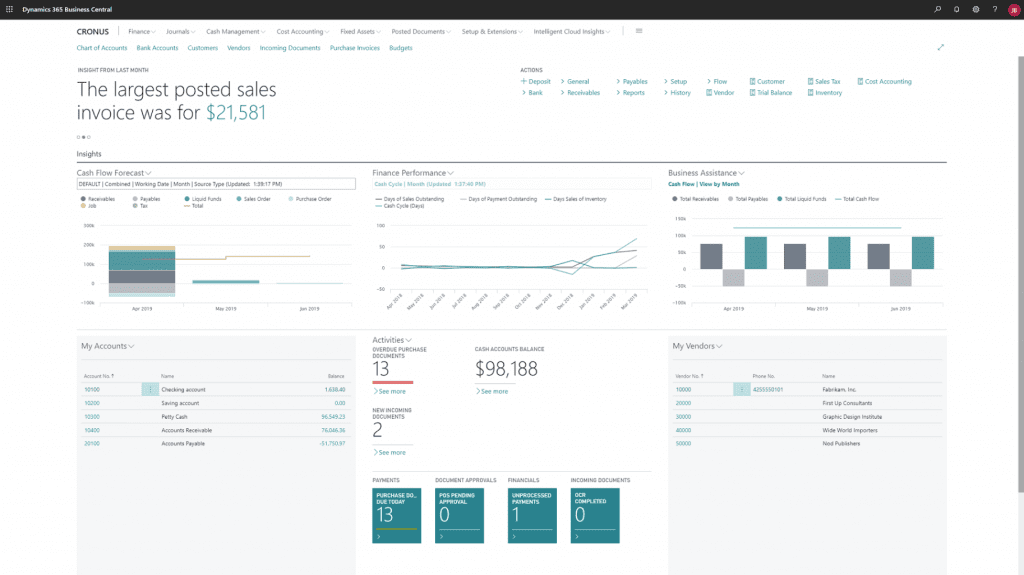 An ERP accounting system can also be useful in comparing statements from different financial years and plotting this against other trends in a company's data. This increases the accuracy and efficiency of the business process and can demonstrate how financial success can be driven from a granular level.
Tracking cash received
Tracking the flow of funds after delivering goods or services to customers is very important.
There is a need to keep a record of those who pay for products or services without delay, and those in need of follow up to pay to determine the creditworthiness of different customers.
ERP accounting software will monitor all the transactions, billing and purchases made by your company, making the expansion of the organisation less strenuous. It can also be set up to chase outstanding debts automatically via email.
A comprehensive ERP solution will also cover functions traditionally covered by a CRM, and can, therefore, inform customer services and sales of account status, meaning that customers are treated appropriately based on their current account status.
To discuss ERP accounting software solutions developed in Microsoft Dynamics 365 and Business Central, please get in touch.