The term 'Digital Transformation' has been bandied around in business circles for so long that it has almost lost proper meaning.
For some companies, business transformation was - and remains - synonymous with having the latest wave of software advancements and digital fads purely because they are available.
But in its true form, digital transformation is far from a buzzword: it is a principle and approach in business strategy for delivering long-term business value and increased profitability through the use of the right technology.
Digital revolution
At its core, digital transformation is not purely an IT consideration: it is a proven, effective process to increase profitability. This is achieved by using solutions that are tailored to specific organisational requirements and workflows.
As little as 10 years ago, businesses from vastly different industries would have had to use the same customer relationship management (CRM) solutions. At best they could be forced to fit; at worst, users would have had to find workarounds with additional software or dreaded excel spreadsheets. Neither solution was ideal or productive.
CRM software solutions such as Microsoft Dynamics 365 have revolutionised organisations' customer management processes. The ability to pick and choose customised CRM functionality to match individual needs ensures that organisations now have software fit for purpose. This type of digital transformation is directly reflected in their productivity and bottom line.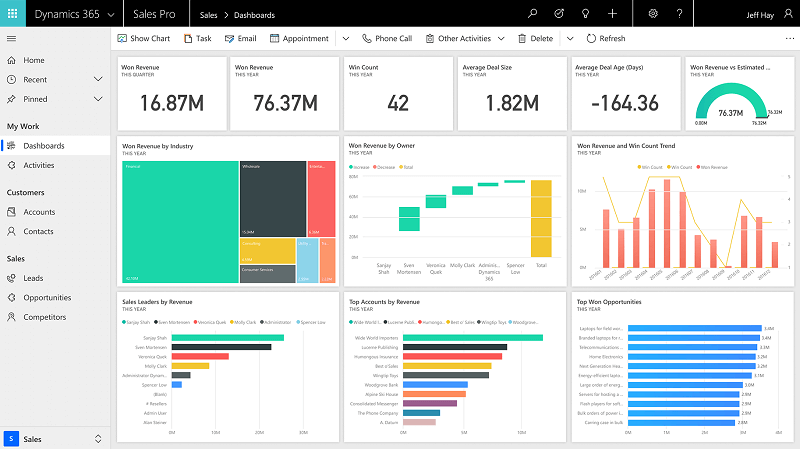 Moving beyond, Enterprise Resources Planning (ERP) systems have taken the same principles and applied it to a company's entire operations. Substantial investment by companies such as Microsoft over the years now means that practically every business area is catered for by ERP solution such as Business Central and NAV.
ERP systems can automate tasks and processes, giving staff back their time for more productive activities. In turn, managers and business owners can see data from all areas of their organisation, in turn giving them better business intelligence.
Meeting changing demands
As organisations have changed the way that they work, software advancements have been able to meet them. Improvements – notably derived from cloud computing - have allowed staff within organisations to work more flexibly with a guaranteed level of reliability.
Digitally-transformative solutions such as Microsoft SharePoint can even expand working flexibility beyond individual companies, allowing organisations to collaborate with each other securely.
The time where collaborative documents existed in draft versions across endless emails is gone: collaborators from different organisations can now work on documents easily, securely and in real-time.
Embracing digital transformation
With clear and exciting possibilities available with digital transformation, don't fear that it represents a sea change for your organisation. All the solutions mentioned here are scalable and can be adopted in stages as an organisation requires them.
More importantly, each solution can - and will - deliver significant time and cost-efficiencies. Embracing real digital transformation, therefore, is embracing a more productive and profitable way of working.
If your organisation is ready to embrace real digital transformation, get in touch to see how we can help.