Microsoft Dynamics Navision - commonly know as Dynamics NAV - is an adaptable enterprise resource planning (ERP) solution.
Microsoft Dynamics NAV helps streamline processes across your business. It can help you to find new labour and process efficiencies, drive more sales, and increase overall business profitability. Discover how in this example.
By taking your data, creating workflows, and providing in-depth business intelligence, an ERP system built-in Dynamics NAV can transform your organisation's operations.
Dynamics NAV can be used for processes across your entire business, bringing together disparate areas data to create a more meaningful view of your business' performance. It contains functionality for a wide range of areas including:
Finance & accounting
Supply chain, manufacturing & operations
Sales
Project management
Operations and business reporting
Microsoft Dynamics NAV works in a way that will be familiar to Microsoft Office users.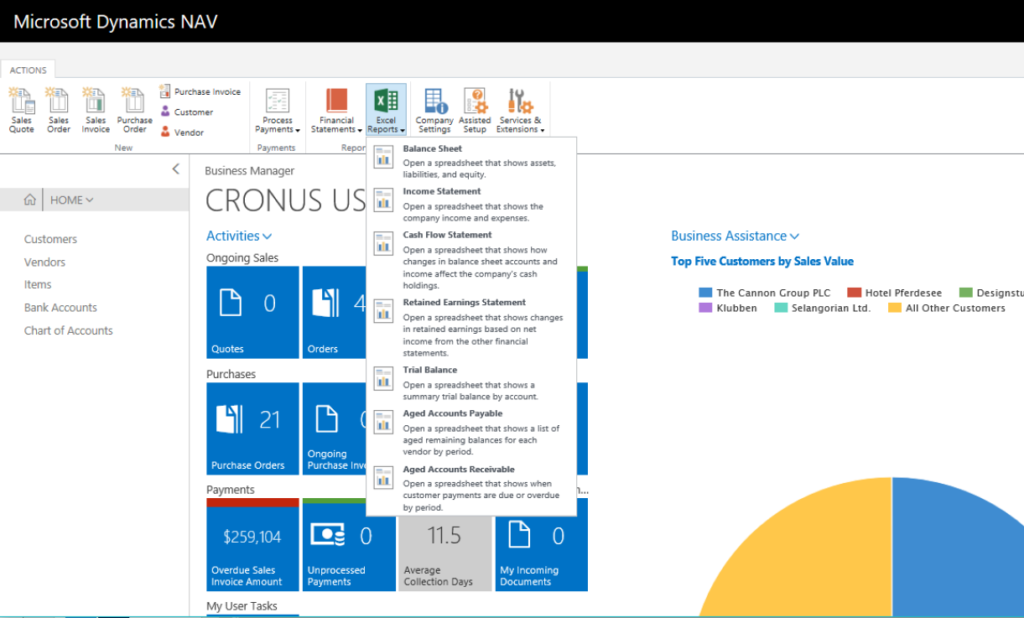 It also offers seamless compatibility with Outlook, Word and Excel. Dynamics NAV can also be accessed on the go from all mobile device platforms.
Benefits of Microsoft Dynamics NAV
As an ERP solution, a Dynamics NAV system offers a wide range of benefits:
Simple and easy to learn & use
Fully customisable to your work processes
Wide range of business functions to cover all your operations
Scalable to grow with your business
Accessible across all devices
For a demonstration of Microsoft Dynamics NAV, please contact us.
Development Services
Akita is an experienced end-to-end developer of Microsoft Dynamics NAV solutions that can automate the entirety of a business' operations. These are solutions that make organisation work smarter, generate better business insight, and increase overall profits.
We provide a full range of services for Dynamics NAV, including:
Consultancy
Development
Project management
Integrations
NAV software hosting
Ongoing support
If you have Microsoft Dynamics NAV requirements, please get in touch.
NAV & Business Central
Microsoft introduced Business Central in 2018 as a cloud-based successor to Dynamics NAV.
For businesses looking to adopt a new Microsoft ERP solution, Dynamics 365 Business Central offers a faster and cheaper route to a professional ERP system. For a better understanding of Dynamics Business Central, book a demo with us and take a 30-day free trial.
We know that organisations may already have Dynamics NAV software instances in use. In such cases, there's little interest in changing platforms or moving to a hosted ERP solution.
It's for this reason that we offer development, services and support for both Dynamics NAV and Dynamics 365 Business Central instances, without a preference for either.
So should you be interested in a new ERP solution, you can be sure we'll recommend the solution that best meets your needs.
To discuss Dynamics NAV solutions, upgrades and support, please get in touch.