Smarter Storage For Images & Digital Assets
A SharePoint digital asset manager can simplify the storage and management of, and collaboration on, your creative files, saving time and delivering increased productivity. SharePoint digital asset management is incredibly effective and the application has a number of smart features that makes it ideal for storing assets.
Our solution is an ideal SME solution for organisations looking to organise up to 5000 files, assets or images. And as its cloud-based, your users can access them anywhere
To discuss a SharePoint digital asset management solution, please get in touch
Contact Us
SharePoint Digital Asset Manager
SharePoint is a cost-effective platform for developing DAM solutions, with the key functionality indigenous to the application. You can share and collaborate on files, download assets from any location, and control file versions, modification rights and even user access.
Organisation also gets 1TB of cloud storage with SharePoint Online free with their Microsoft 365 licences – plenty of room for even big files.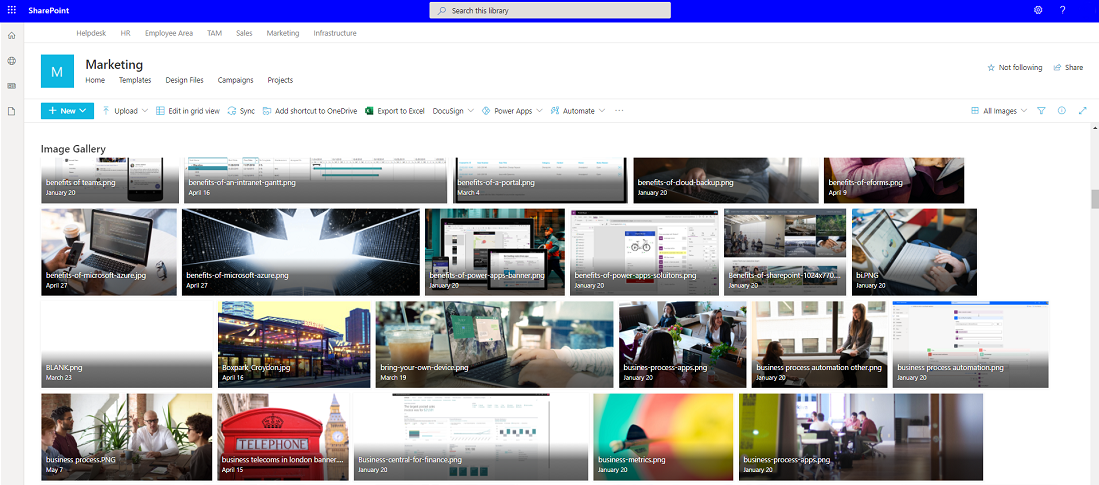 Our standard SharePoint digital asset management solution is ideal for SMEs looking to get started with a DAM solution and keep control of their digital files and images.
Created as either a standalone solution or bolted onto an existing SharePoint solution, our digital asset manager will deliver the storage and tagging options your organisation requires to manage assets with ease.
Our consultants will work with you to set up your Microsoft 365 tenant, structure administration access then create SharePoint DAM with the required tagging.
Wider SharePoint DAM Requirements
Our SharePoint digital asset management solutions are built to best practice principles and tailored to the requirements of SME organisations. So while solutions are not 'off the shelf' products, they can be delivered quickly and cost-effectively.
For organisations that want a more in-depth solution or have wider SharePoint expansion requirements, we'll be happy to discuss custom options and development.
We can also supply any required user licensing organisations require for SharePoint or wider Microsoft 365 products. And we're happy to offer training as well.

Benefits Of A Digital Asset Manager
A digital asset management system (or DAM) is a software solution for storing all of an organisation's digital files assets in an ordered and discoverable way. While a document management system is focused more on documents and PDFs, a DAM will be structured for the storage photos, audio files, video files, presentations and other creative file types.
A DAM makes these files available for use across your whole organisation, while also protecting your original files. This helps reduce duplication of effort as staff can reuse previously created digital assets in their projects. And with a SharePoint DAM solution, your files are available anywhere

Cloud Collaboration & Sharing Wherever
Sharing files is simple with a SharePoint DAM. Rather than worrying that your files are too big to email, you can send a download link directly from SharePoint to your recipient. This makes SharePoint the perfect solution to use for sharing large audio and video files.
And should you need to work on files or presentations with other people in your organisation, SharePoint supports simultaneous file collaboration. No more emailing versions to all participants, you can all work together on your file at the same time, with version tracking of changes.
There's no limit to the size of your DAM either: SharePoint is designed to be a scalable solution. And with SharePoint Online hosted in Microsoft's cloud environment, your DAM can keep growing to a near limitless size.

Microsoft SharePoint Experts
We're experienced in building SharePoint instances that help organisations better manage their files. Our solutions result in improved efficiency and raised productivity.
Our scoping process, conducted by our consultants, ensures that the SharePoint DAM we deliver matches your needs exactly. We'll ensure your DAM addresses your current organisational concerns and is built to be scalable for future growth.
We will then design and brand your DAM solution, ensuring it's intuitive for your purpose. Once ready to deploy, we can also provide the necessary training and documentation so that staff know how to get the best out of your new SharePoint solution.
To discuss a SharePoint digital asset management solution, please get in touch: