Microsoft has announced the upcoming launch of Dynamics 365 Business Central, a new offering designed to be an out-of-the-box Dynamics 365 solution for small and medium-sized organisations.
Microsoft states that Dynamics 365 Business Central will be an all-encompassing SME solution. This package of enterprise resource planning (ERP) applications will allow organisations to:
Manage sales, accounts and financials
Automate supply chains
Deliver improved customer services
Manage projects
Optimise business operations
In practicality, based on Microsoft's other ERP systems,  Business Central  allow for the end-to-end management of finance and operations from a single platform.
The SME ERP solution
Business Central is designed to be an SME ERP solution.
Like Dynamics 365, Business Central is also a cloud-based solution, so doesn't need to be installed on an organisation's server (though can be if desired). This increases the flexibility of access: sales operatives, for example, can update leads from their phones, while production workers can update stock levels from tablet devices.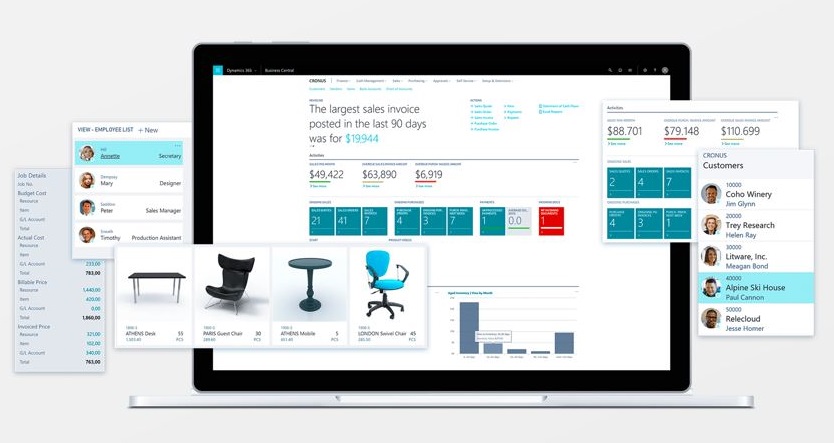 Users will also pay a monthly licence cost for Business Central (when hosted on Microsoft's cloud setup). This means organisations can add or remove users as necessary, offering a more cost-effective model than a one-off (often large) software licence fee where only a few people may be accessing the ERP.
Microsoft has also indicated that it will perform regular updates to Business Central. This will make sure that this SME ERP solution is always up to date with the latest functionality for all users.
About Microsoft's SME ERP solution
Dynamics 365 Business Central replaces the short-lived Dynamics 365 Business Edition, which was launched in 2016 but quietly put to bed at the end of 2017.
Business Central is the successor to Dynamics NAV, Microsoft's Enterprise Resource Planning (ERP) solution. The similarity in reported functionality – coupled with Business Central's attractive tiered licensing – will make Business Central a highly compelling alternative to NAV. It would, therefore, make sense that the new offering might take the place of NAV in time.
Dynamics 365 Business Central is available now. Though designed as the ideal SME solution, organisations may find that a custom Dynamics 365 setup proves a more functional and cost-efficient solution than Business Central.
To discuss the right Dynamics 365 Business Central solution for your organisation, please get in touch.