Following on from our overview of the Dynamics 365 October update, we now breakdown some of the key updates for marketers:
Market by account
Giving each prospect a personalised experience is one of the best ways to reduce the time between a company being a potential customer to becoming an actual customer.
However, when marketing to many companies simultaneously it can be difficult to deliver this type of experience. Equally, it can be difficult to establish which contacts are most receptive to it.
The account-based marketing CRM update to Dynamics 365 will allow a better view of accounts and buying signals, allowing sales and marketing teams to target the companies most ready to engage.
The update promises the ability to:
Identify key stakeholders to reach within each account.
Create more personal content.
Generate account-level leads and nurture them through the demand-generation funnel.
Continuously track engagement, letting marketers tweak their messaging accordingly.
Sounds exciting, we can't wait to get our hands on it.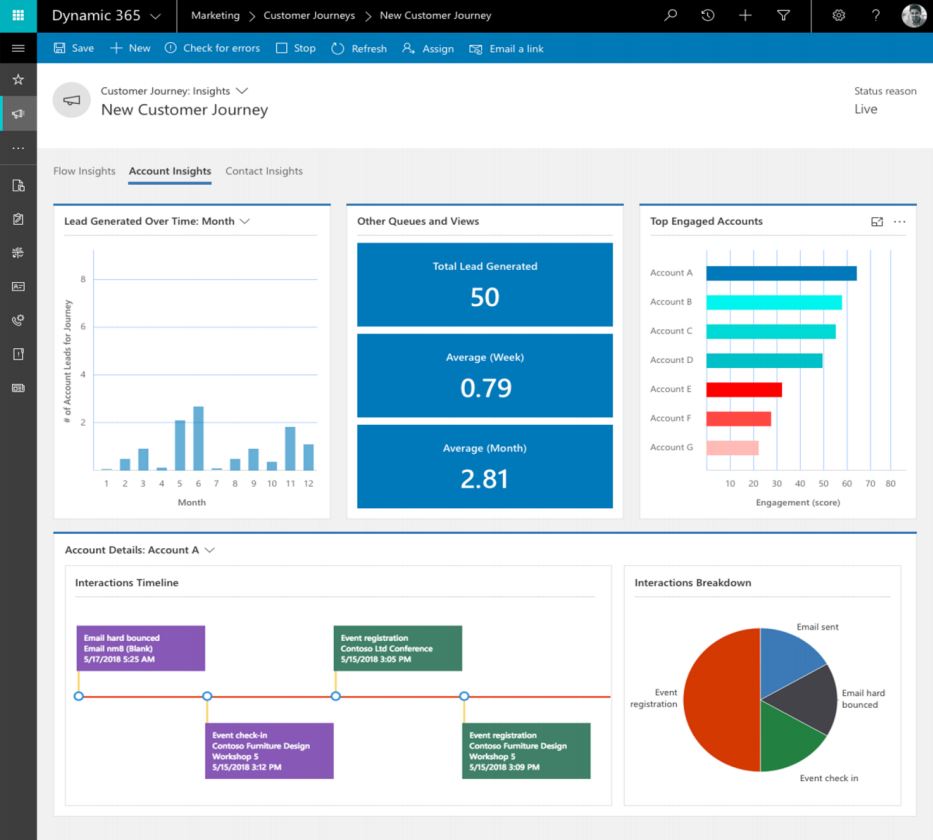 Deeper segmentation within your marketing CRM
There's nothing marketers love more than getting down into their data to work out the right content to reach the right market. As of October, Dynamics 365 promises users the ability to "create complex, business-centric marketing segments" within their data lists.
Dynamics 365 Boolean logic advanced searches aren't the friendliest for creating complex send lists (Excel has always been the marketer's friend for this). Thankfully Microsoft has also promised to make this segmentation a smoother experience. Fingers crossed.
Content blocks
It's not giving away a trade secret to say that marketers reuse content…a lot.
Microsoft has acknowledged this with the promised ability to save particular content blocks for emails or landing pages. These can then be reused within new email campaigns or landing pages.
It's a simple but welcome addition that tackles one of the practical realities of marketing.
Get more LinkedIn
The tie-up between Microsoft and LinkedIn continues. Initially focused on the popular and useful Sales Navigator, October's update promises to allow sales and marketers the ability to identify more of the an account's contacts as part of campaigning.
The update will also allow marketers to match-up their prospect accounts with LinkedIn-matched audiences. This potentially means marketers can use LinkedIn to create much deeper prospect audiences.
Closer ties are also expected between Dynamics 365 and LinkedIn's landing page capability.
Social listening
Social listening has been a growing trend among marketers looking to keep tabs on their brand or company across the vast expanse of online and social media.
Akita has previously given an outline of Microsoft Social Engagement and strategies for using this. The October update will add the option to select a dedicated social tab for each customer journey and event. This means that marketers can keep track of key prospect engagements, even seeing if their campaigns have resonated. It's another useful way to understand the behaviour of companies and contacts and could be useful in choosing the right content and platform for marketing to them.
Marketing calendar
The old maxim 'fail to plan, plan to fail' is especially true of marketing. Each marketer will have their own individual plan, but in a large department keeping track of what else is going on can be tricky.
The new Dynamics 365 marketing calendar promises all stakeholders the ability to keep track of campaigns or create events. It's simple but effective and will be another strong addition to Dynamics 365's marketing capabilities.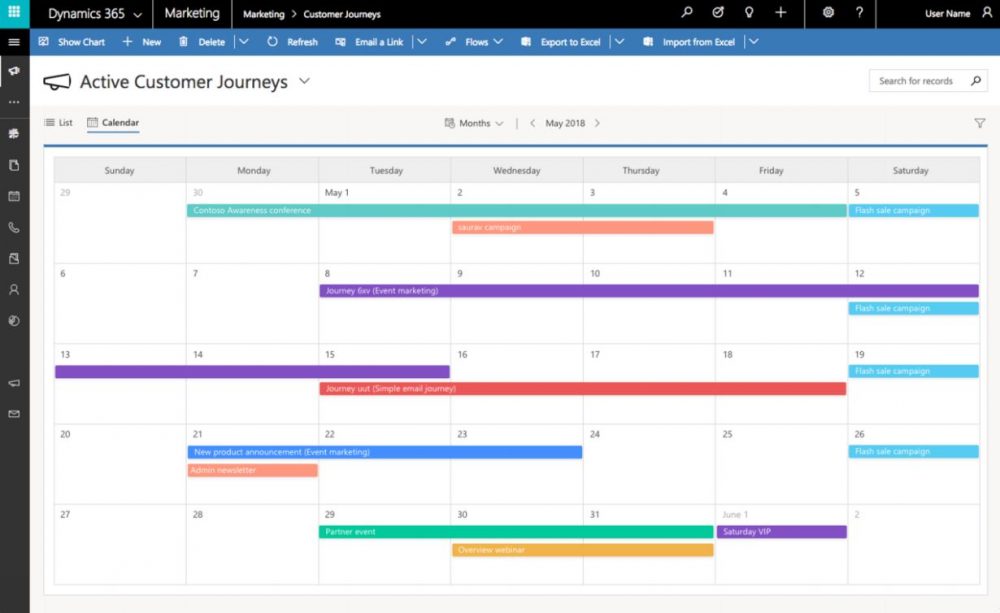 The new functionality will be available from October. To discover Dynamics 365's existing marketing CRM capabilities, why not take a demo with one of Akita's consultants?