Discover SharePoint's capabilities and features as a document management system.
A Microsoft SharePoint document management system provides smarter solutions for storing, sharing and collaborating on documents, saving businesses time and money.
What is a document management system?
A document management system is a software solution for storing, managing and tracking documents and files.
SMB organisations typically start by using a file manager solution (such as found in Windows). However, as organisations grow, file managers can soon become overly complex. Important documents can get lost in huge nests of folders, undiscoverable by the basic search functionality available. There's also often no order to the architecture of the file manager is also usually defined by whichever user created it, and is just as easily altered by the next user.
A document management system provides a smarter way of storing documents. It provides a defined architecture that cannot be edited by users and can only be added to in a structured way. It is therefore is an efficiency driver as a business grows, as staff are able to find documents with ease – even if the system extends to hundreds of gigabytes of documents.
SharePoint Document Management System
Microsoft SharePoint is a multi-functional software solution for document management and collaboration. It allows for businesses to store files in a more intelligent way, with access to documents based on role and requirement.
SharePoint also makes use of advanced search options to find documents. Alongside a powerful search bar, metatagging of documents allows users to cut through folders and filter for documents by type or association (eg. all documents relating to a particular company, or all documents marked as contracts).
In its cloud configuration (an on-premise option is also available), SharePoint can allow for secure access on-the-go, from PC or mobile device. And both the on-premise and cloud versions of SharePoint allow for document collaboration. This means that users located potentially in different locations around the world can work on documents simultaneously, driving greater efficiency.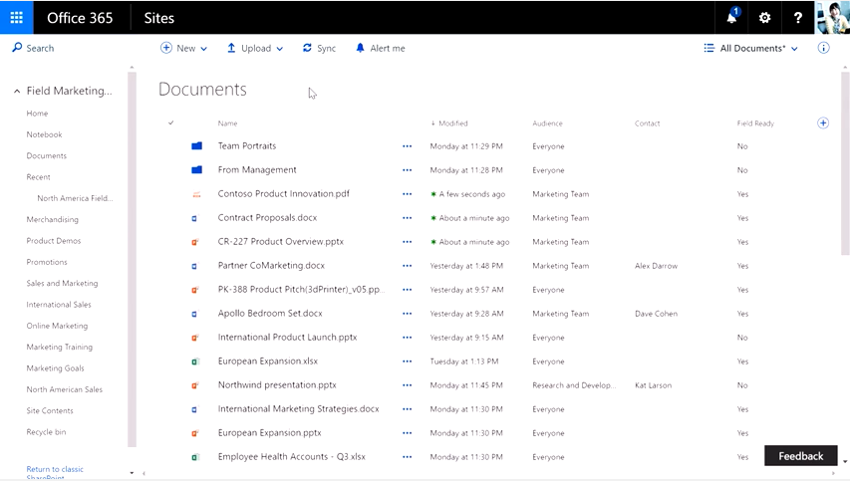 SharePoint also allows for documents to be tracked by access and changes. This is important not only for viewing any user changes but also for security: documents containing personal data that get lost are technically a GDPR breach.
As per other Microsoft products, SharePoint is intuitive to use and manage. Tasks such as uploading and sharing documents can be done simply, while administrators can make changes and updates to your document management system with ease.
Our solutions

Akita offers an end-to-end service for creating a SharePoint document management system.
We'll undertake scoping and necessary consultancy, then develop and structure your SharePoint instance based on your requirements. We'll even take time to design and style your document management system in line with your company's website or branding.We can then train staff in how to use it and ensure it's properly rolled out in your organisation.
As desired, we can provide a periodic review to see if changes or new functionality might make your system more efficient.
For more information about our document management systems and solutions, please get in touch.