Deliver projects on-time and on budget with an end-to-end Microsoft Dynamics 365 project management CRM solution.
Microsoft Dynamics 365 for Project Service Automation offers an advanced project management solution that covers all aspects of planning, resourcing, sales delivery and billing.
Why use a CRM system for project management?
Any project manager will be able to tell you the benefits of project management software: smarter collaboration, better management and simpler time tracking. That's why almost 80% of high-performing projects use a dedicated software solution for project management.
But wouldn't it be better to have your project management software able to do even more? Dynamics 365 for Project Service Automation is a project management CRM solution that can link to all the other aspects of your Dynamics 365 CRM.
So not only can you simplify project management, you can simplify billing, contact management, communication tracking, resource scheduling, solution up-selling and future marketing.
Capabilities of Dynamics 365 for Project Service Automation
Project planning
Oversee cost, effort and value to working strategy using standard project templates. Create project scheduling and management with Microsoft Project and link projects to sales planning and Dynamics 365 communication records.
Resource management
Assign resources through a scheduling engine that can track across all aspects of your project and organisation. Simplify communication between project managers, resource managers and sub-contractors to forecast demand.
Team collaboration
Use Dynamics 365 and Office 365's productivity tools to allow project teams, partners and customers to collaborate on projects and store them in the cloud. Empower project managers with status updates and performance to mitigate project management risks.
Manage project spending
Provide a central review dashboard for projects to display details of review periods, overruns and change control costs as well as time impacts. Automate approvals and link to accounts systems to send accurate invoices via email automatically.
Track service performance
Review business opportunities and improve performance through advanced analytics, interactive dashboards and data. Easily access information on resource utilisation and profitability.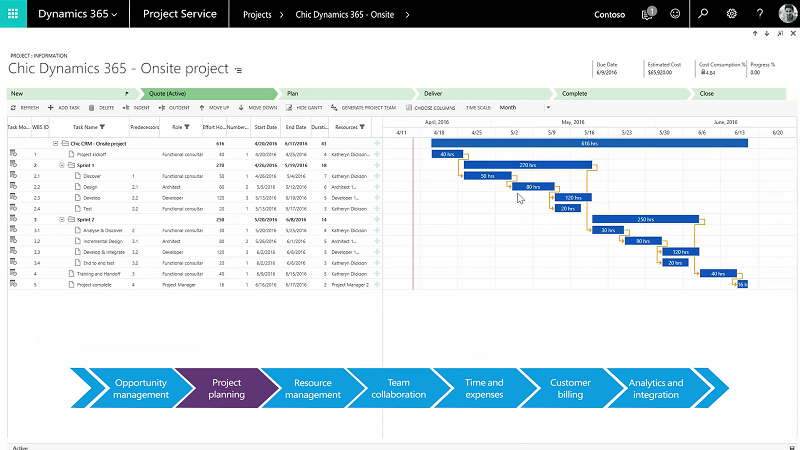 Benefits of Dynamics 365 for project management
Improve project engagement
Build lasting relationships by keeping customers informed at every stage, helping to drive project success.
Empower teams
Increase productivity across projects and programs by coordinating resources.
Generate strategic growth
Prioritise service offerings in line with resource availability and know both when and how to make investments.
To discuss Dynamics 365 for Project Service Automation, or a general project management CRM solution,  please get in touch: