Dynamics 365 for Field Service can help you to increase customer satisfaction by improving efficiency of service.
Use Microsoft Dynamics 365 for Field Service to keep customers fully informed around the services you provide for them.
Capabilities
Manage contracts
Deliver predictable service that keeps customers happy. Set schedules that help align service delivery to customers and locations.
Schedule and dispatch optimisation
Plan and assign the right resources to the right locations with manual, assisted, or fully automated scheduling and alignment. Create schedules through 'drag and drop' or map-enabled planning that efficiently gets staff with the correct skills to the right locations.
Track inventory
Keep tabs on your product and service inventory with scheduled re-ordering. Factor in logistics concerns across all locations, down to the size of vehicles available for delivery. Increase the accuracy of order with forecasting that helps predict changing demand trends.
Enhance service delivery
Increase staff productivity with online and offline information about customer cases, even providing guides for common issue resolutions. Link orders to case history, parts product configurations, parts availability, pricing and any other relevant information.
Stay connected
Provide remote support to team members in the field that helps provide a more proactive element to maintenance, keeping customers happy.
Deliver a better customer experience
Keep your customers informed by putting them at the centre of all service interactions. Let customers see all past and upcoming cases through a bespoke customer portal. Give updates when technicians are en route, with live mapping or updates via SMS and/or phone calls.
Benefits
Cost benefits
Decrease journey times and saves money on fuel, then increase appointments per day and improve staff efficiency costs.
Customer-centric experience
Inform customers around every interaction within a service chain to increase brand loyalty and advocacy.
Connected journey
Provide employees and technicians with 360⁰ information, from any location to improve resource productivity and customer satisfaction.
Empower your business
Increase efficiency and profitability by optimising schedules and remote troubleshooting to reduce the length and frequency of site visits and callouts.
Dynamics 365 Field Service solutions
Research indicates a potential business return on investment of over 360% in just three years through the adoption of Dynamics 365 for Field Service. Akita can develop a Field Service solution that generates working efficiencies right across your business, not just within your service team.
During our scoping phase, we will work with you to understand how your organisation currently delivers its services. We'll then assess where you'd like to see improvements, and what further improvements we can suggest by using Dynamics 365 for Field Service functionality.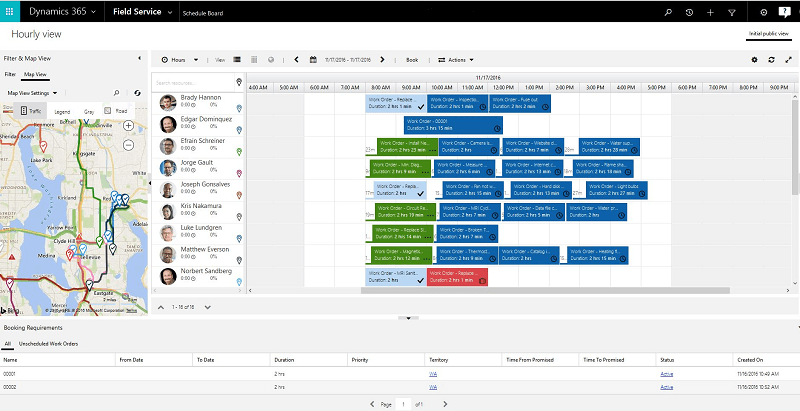 We can then design and implement a Dynamics 365 solution aligned to the way you operate. This can include the integration of existing CRM or ERP data, or any software that you may have relating to the management of your field services.
We'll then deliver training and ongoing support so that your organisation gets up and running quickly with your new Dynamics 365 for Field Service solution.
For more information on implementing Microsoft Dynamics 365 for Field Service or to arrange a demo, please get in touch: