Utilise SharePoint for project management requirements
Our SharePoint experts can deliver custom project management solutions that range from straight-forward to highly advanced, multi-project setups.
Based in the cloud, SharePoint is the perfect solution for busy project managers who are able to access their platform from anyway. And it makes sharing and collaborating and relevant files simple.
Plus, unlike some inflexible project management software platforms, each SharePoint solution for project management solution can be tailored to the needs of the organisation or the individual project.
To discuss using SharePoint for project management, please get in touch:
Contact Us
Features Of SharePoint For Project Management
Microsoft SharePoint can be configured to fulfil a range of project management requirements.
At its very simplest, SharePoint can be designed to offer configurable lists relating to tasks or projects. Relevant parties can then complete these 'to do' lists, with others involved in those projects then being notified by email as milestones are complete.
But beyond this, there's plenty more potential and functionality for using SharePoint for project management, with multiple workflows, communication streams and stakeholders.
For longer-term or more in-depth projects, Akita can develop SharePoint team sites. These can be configured to the needs of the project and can be set to be accessed by users both in and outside of an organisation.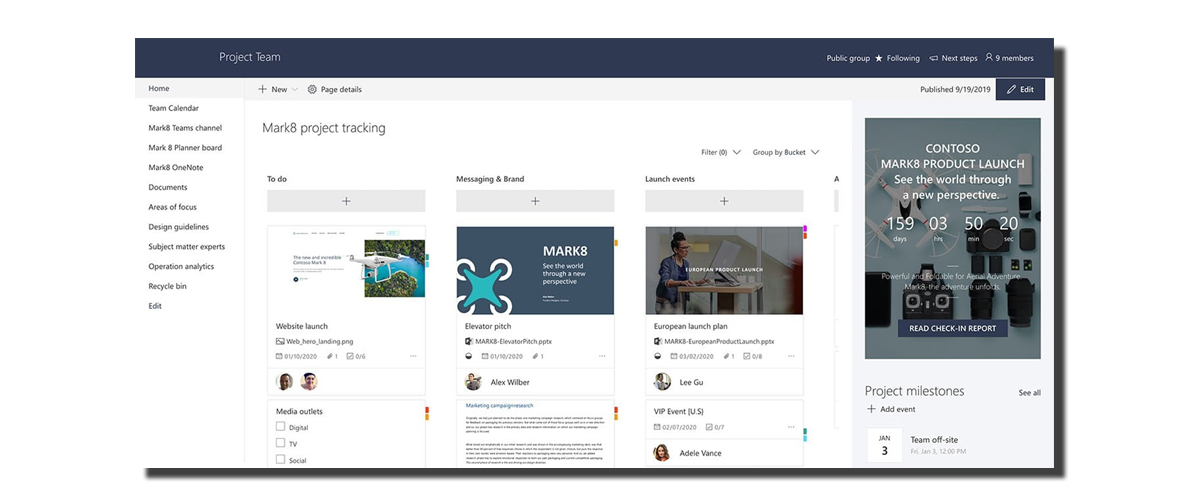 Features of a team site can include an area for collaborating on documents, a display of upcoming deadlines, news on the latest developments on that project, tasks to be undertaken broken down by individuals, 'how to' guides and forums to discuss project stages, and status graphs to show overall progress on the project.
And using SharePoint Online, teams can access projects from any device and on-the-go – perfect for flexible working.
Advanced Project Management Features
Beyond team sites, SharePoint can also be configured to be a powerful tool specifically for busy project managers.
To ensure all parties run to schedule, reporting and automatic email updates can be setup. These can provide periodic reminders about a project, or alert users of imminent deadlines.

SharePoint can also be used to create Gantt charts, detailing the progress of various streams of a project – or even multiple projects – with automatic updating as tasks move through to completion.
Wider Microsoft 365 Integration
With the ability to expand SharePoint's capabilities for project management further through the integration of Microsoft Projects or approved third-party apps, your project management solution can soon rival specialist project management software for a fraction of the cost.
Plus through integrating Sharepoint with Microsoft Teams, project managers can also manage all communications linked to their projects from a single location. This then provides a completely unified communication solution.
Discover more about project management capabilities of SharePoint in our case study:
Our Work
About Akita Intelligent Solutions
Akita Intelligent Solutions is a leading provider of digital transformation consultancy and solutions.
Our expert SharePoint consultants have experience working with a wide variety of organisations across a broad range of transformation projects. As such, they're able to suggest and implement solutions that have been proven to deliver improved working efficiency across some of the most prestigious organisations in the UK and internationally.
Their expertise also extends into wider business systems and processes. So they'll also be able to advise on best practice and how to future-proof the solutions you're implementing.
To discuss our SharePoint consultancy, please get in touch: