Connect Microsoft Dynamics 365 to common accounts packages for organisation-wide digital transformation.
Redware is the market-leading solution for connecting Sage 50, XERO and Quickbooks Online with Microsoft Dynamics 365 and Power BI.
Dynamics 365 Sage 50 connector
Redware allows organisations to connect their Sage 50 data with that of their Dynamics 365 instance.
Organisations considering Microsoft Dynamics 365 as a sales or business management solution may be hesitant to adopt Dynamics 365 if it requires them to move away from an existing Sage 50 accounting system. Redware facilitates digital transformation by allowing bi-directional data sharing between these two applications, letting organisations profit from the features of both solutions.
With the Redware Dynamics 365 Sage 50 connector, organisations can:
Copy invoices and credit notes from Dynamics 365 into Sage 50
Perform synchronisation and data migration of Customers and Products
Link or load an accounting invoice PDF into Dynamics 365
Track outstanding invoice amounts in Dynamics 365
Review customer balances and credit limits from Dynamics 365
Create Purchase Orders directly from Invoice items
As a Redware partner, Akita can provide and configure the connector software. We can then use our Dynamics 365 expertise, and experience with Redware and Sage 50, to help organisations make the most of the data benefits.
To discuss deploying a Redware Sage 50 connector please get in touch.
Dynamics 365 Quickbooks Online & Xero CRM connector
A Quickbooks Online and Xero CRM connector is also available.
As per the Sage 50 connector, Redware supports data syncing between Dynamics 365 and Quickbooks Online or Xero with 100% accuracy. This allows for the accounting, debt chasing and payment processing functionality of these accounting platforms to be available in Dynamics 365, along with wider data sharing.
With the Redware connector, organisations get full visibility of their operations (from sales to payment) from within the Microsoft Dynamics 365 platform.
Contact us to discuss a Quickbooks Online and XERO CRM connector solution.
Power BI Connector
For organisations looking to make better sense of their data in Sage 50, Quickbooks Online or Xero, a Redware connector is also available for Microsoft Power BI.
Power BI is an advanced data visualisation tool. It can transform the most complex of data into discernible and attractive reports containing graphs, visuals and tables that help users make better sense of their data and garner greater business intelligence. Find more information about Power BI here.
Of many possible solutions, Power BI reports can be configured to provide:
Sales by customer information
Product purchase levels
Historic payment trends
Debtor patterns
Akita can provide both the Redware connector and the relevant Microsoft licences to access Power BI. We can then develop the reports and graphics you require.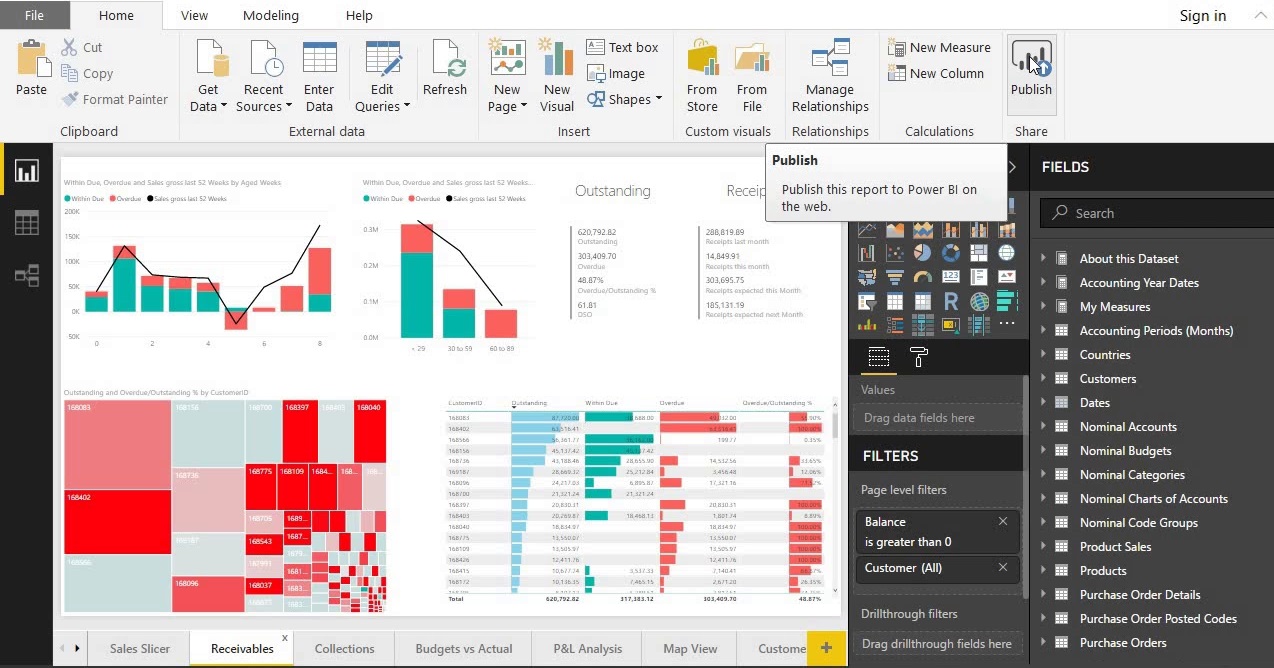 For more information about the Redware Power BI connector, or for a demo of Power BI, please get in touch