Akita is an established Microsoft Power Apps developer, creating custom and cost-effective solutions that improve working efficiency.
What is Microsoft Power Apps?
Power Apps is Microsoft's solution for the fast and cost-effective creation of custom mobile applications. Apps can be tailored to simplify and improving common work processes, boosting staff productivity in turn.
Power Apps can work as a standalone solution, or be combined with data sources such as Dynamics 365 and SharePoint Online for advanced process automation.
Using your business data to power your apps, the possible applications are limitless.
Benefits of Power Apps
Microsoft Power Apps simplifies the design and creation of apps. The benefits of working with the platform include:
Flexibility – Apps will run on a variety of devices including phones, tablets and PCs
Customisation - Apps can be designed to organisational specifications, including incorporating company branding and styling
Fast development – Without the need for extensive custom coding, Power Apps can be designed quickly, in turn reducing costs
On- and offline – Power Apps solutions can work with or without an internet connection. App data will then sync once a connection is established 
Cost-effective & secure – Power Apps solutions are much cheaper than other custom-coded apps, and safer to integrate with your sensitive data
While linking to SharePoint or Dynamics 365 can increase organisational benefits, Power Apps does not require either solution to run and can operate as a standalone product.
Power Apps Solutions
Power Apps can deliver a wide range of solutions. Ideas for apps include:
Visitor sign-in & virtual receptionist
Contact/lead capture solution for events
Task checklists for field service workers
Production monitoring solution
Fault logging app for field operatives 
Discover how we have used Microsoft Power Apps to deliver a fleet management solution in this case study.
Power Apps Development
As an experienced Power Apps developer, we can deliver bespoke app solutions that meet your organisation's needs. If you've got an idea of what you need, we'll make it happen.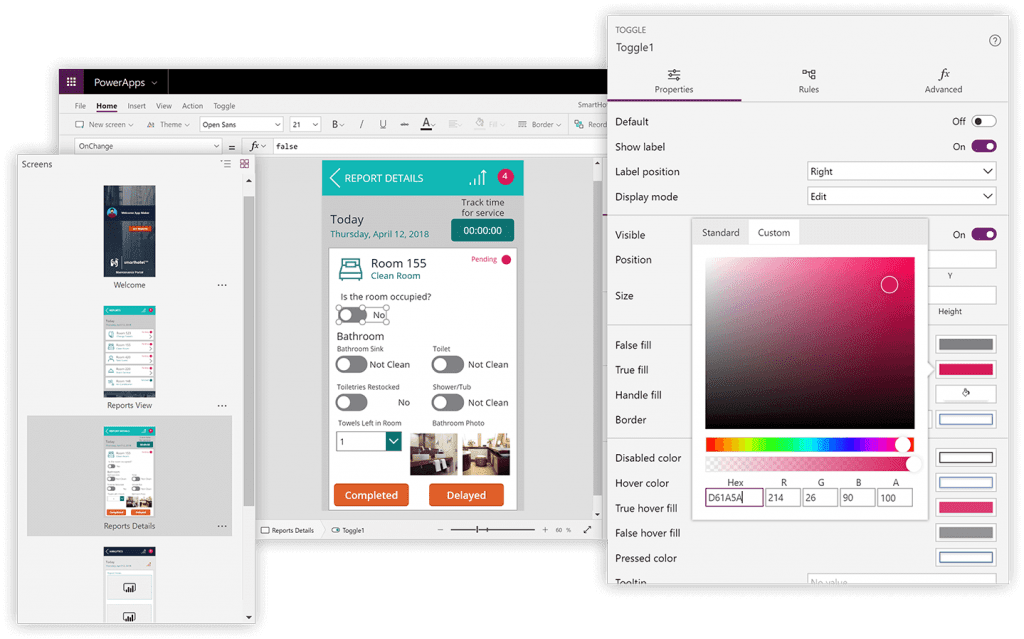 We'll start by reviewing the way your organisation works. We'll then design and create a solution that meets your requirements and is styled to your organisation's branding.
We can then sync between your Power Apps solution and your chosen data source, whether that's Dynamics 365, SharePoint or another platform.
All apps are then carefully tested to ensure that they not only work as intended but will work effortlessly in the field.
To discuss Power App solutions and development, please get in touch.