Expand the functionality of your Microsoft Dynamics instance by integrating third party software and additional Microsoft apps.
We can assist with Microsoft Dynamics integrations with third-party software as well as other Microsoft apps.
Third-Party Integrations
Integrating third-party software with Microsoft Dynamics can create new workplace efficiencies. From speeding up invoicing and ordering to automating sales engagement, combining key business systems will make your organisation more efficient.
Combining Dynamics with your external software can also improve overall business intelligence. Having data from all areas of a business located centrally makes it easier to scrutinise, allowing managers and owners to make better-informed decisions. Whether accountancy software or a marketing automation solution, Microsoft Dynamics can utilise data held in these platforms to generate new insight and create new process efficiencies.
Our consultants make complex integrations simple. We'll use the right middleware to ensure secure integration between your software and Dynamics. We then ensure that fields are mapped correctly so that all valuable data is identified and can pass between the two platforms.
Once the integration is complete, we can also set up new reports and dashboards that utilise the data now available. This ensures you get the most use and value from your Dynamics integration.
Sage Integrations
Akita is experienced in delivering Microsoft Dynamics Sage integrations.
Sage is one of the most commonly used accounting platforms in business. While organisations are often interested in adopting the functionality of Microsoft Dynamics 365 and Business Central, they are sometimes hesitant to move long-standing accounts packages into Dynamics as well.
To allow an organisation to make use of both Dynamics and Sage, we can integrate them. This allows for select data to be securely communicated between the two platforms.
This then allows organisations to benefit from the full end-to-end process offered by Microsoft Dynamics (from marketing through to invoice) and all the accounting and data storage functionality of Sage, without the need to manually transfer data from one platform to another.
Akita also supports a number of other accounting platform integrations, including Quickbooks and Xero.
To discuss Sage integration, please get in touch.
Microsoft Flow
Want to get smarter interactions between Dynamics 365 and Microsoft applications such as Outlook and SharePoint? Microsoft Flow can get these applications working together, creating automated workflow processes that generate time efficiencies for users.
For more information on Microsoft Flow please visit our dedicated page.
Microsoft AppSource
Microsoft now offers a large number of its own apps that can be integrated with your Microsoft Dynamics instance. Solutions cover everything from electronic document signing, to payroll management, to PowerApps solutions.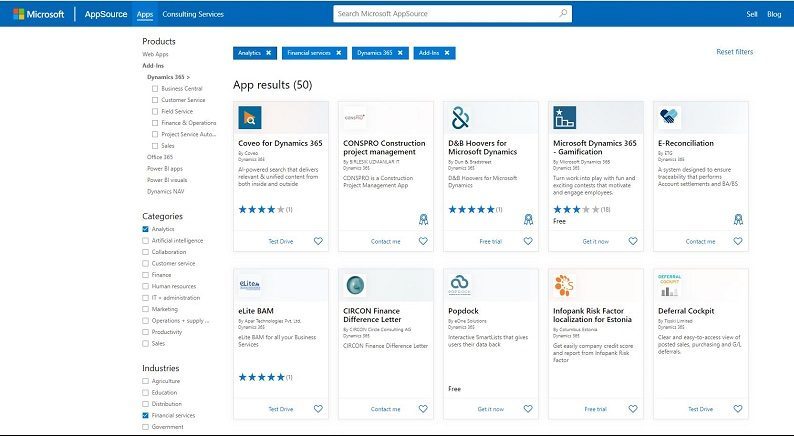 If you're looking to add specific new functionality to your Microsoft Dynamics instance, we can help you select the right app. We'll then ensure the app is fully configured and, importantly, that you know how to get the best from your new solution.
We can also find the best way to store your apps so that they use as little space as possible within your Microsoft Dynamics storage.
To discuss Microsoft Dynamics integration projects and requirements, please get in touch