Process Automation
Our business process apps take common admin requirements and streamline them into easy to complete tasks – enabling your workforce to easily meet their requirements both on-the-go and on time.
By tackling repetitive jobs at scale, business process apps free up the time of key management and finance staff who are no longer chasing replies, receipts or information. Deployed across the width of an organisation, they can generate significant working efficiencies. In some cases, our apps have boosted staff productivity by as much as 50%.
Tailored To Your Needs
Our business process apps can be used as standalone solutions or embedded into your organisation's Microsoft Teams or SharePoint setups. All apps can be branded and customised to your corporate colours to reflect your identity.
And should you have ideas to further improve apps for your requirements, we'll be happy to discuss development ideas.
View our business process app solutions below:
Policy Management System
Keep on top of policies, procedures, product documents and files requiring regular review.
Order files into relevant categories (H&S reports, EVAC assessments, HR policies reviews etc.) with dates for review, those responsible, what standards files relate to (ISO, BSI, GDPR etc.), and whether a file is due or overdue review.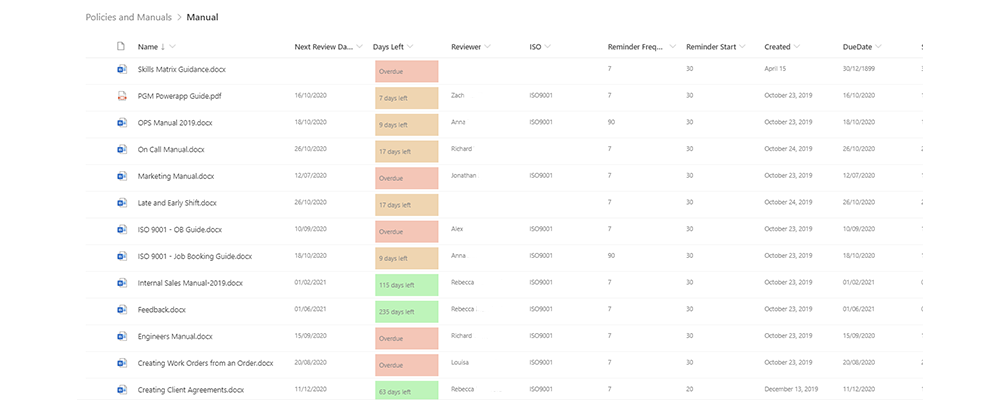 As review dates approach or inspections are scheduled, owners are automatically prompted by email to review their files. And prompts will only stop once files have been reviewed and signed off appropriately.
Credit Card Receipts Power App
Simplify the submission of business credit card receipts. Attach or photograph receipts and submit them with just a few simple details. Details are logged against user accounts, making it easier for finance and accounts staff to manage individuals claims. And automated email alerts can ensure that users know to submit receipts on time.
Overtime Submission Form
Simplify overtime submissions for additional salary payments. Staff can add reasons for overtime, start and end times and their department, along with who has approved overtime. Overtime can be verified either by a manager or referencing data from a sign-in system or Power App prior to payment.
Expenses Management Form
Place the onus back on staff to manage and complete expenses correctly and on time. Have users submit claims including scans or photos of required receipts. Then, with data stored in SharePoint or Excel, manage all staff expense requests from one location and at time that suits you (rather than multiple random requests). Notification emails can also be setup to let staff know if their expense claim has been rejected with a reason why.
Mileage Submission Form
An easy way for staff on the road to submit their mileage allowance on the go. Add details of journeys and their business purposes with automatic calculation of mileage due. Managers can then approve expenses and accounts departments easily process all payments at once.
To discuss our business process apps, please get in touch: