Manage all of your operations and track your data with a cost-effective, ready-to-go ERP package.
We are a leading Microsoft Dynamics 365 Business Central partner, developing ERP solutions that streamline operations.
What is Business Central?
Microsoft Dynamics 365 Business Central is a cloud-based out-of-the-box Enterprise Resource Planning (ERP) system. It is a software solution that will allow you to track and manage activities taking place across your entire organisation.
By monitoring all areas of your operations from just one location, Business Central allows you to synchronise, automate and improve your organisation's processes, making you more efficient and ultimately more profitable.
Business Central also delivers advanced and in-depth intelligence about your whole company. Rather than having to decipher separate reports from your sales, finance and production teams, you'll get a real-time view of the resources you're using and the profitability of the products or services at the click of a button.
Capabilities
Business Central is a complete management solution, able to improve processes across a wide range of business areas including:
Financial management
Supply chain management
Warehouse management
Manufacturing
Project management
Sales & marketing
For a demonstration of specific functionality, please contact us.
This is a highly-flexible platform and can be tailored to match how your company works. Our consultants can replicate your existing successful workflows within this ERP platform, and improve on those that could be faster and more efficient.
Why Choose A Business Central ERP system?
Business Central is the perfect solution for organisations that have grown beyond their traditional management solutions, and are ready to adopt a solution that will make them more effective, agile and profitable.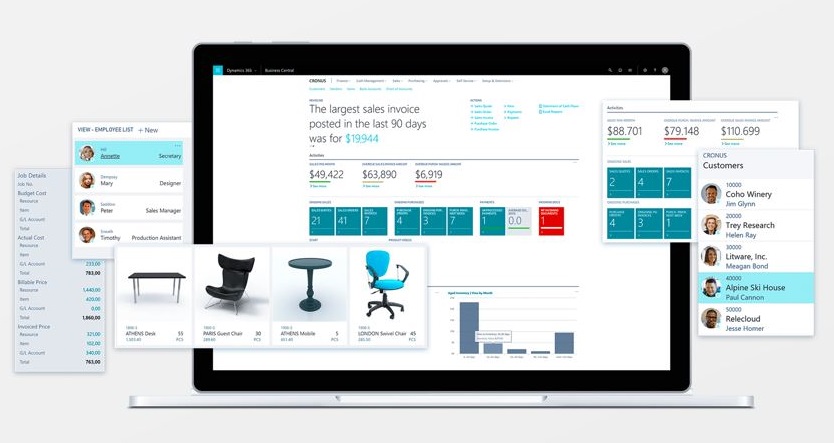 Microsoft has tailored the platform to serve most requirements out-of-the-box. This means that it can fit into the way your organisation works with minimal development. It's an excellent solution for managing operations, supply chains, service help desks, manufacturing processes and accounts, and can help maximise performance in all of these areas.
In addition, it's a more affordable ERP solution than many competitor products and previous Microsoft Dynamics ERP solutions, which tend to require extensive (and expensive) development.
Our Services
With years of experience in working with manufacturing companies, we have a strong understanding of typical business processes and pain points. We, therefore, understand how an ERP system can fix and improve these.
We offer end-to-end service solutions including:
Consultancy
Development
Migration
Integrations
Licensing
Support
Training
Our consultants are also experienced developers of a range of Microsoft ERP systems so will be able to match available functionality to your needs.
To discuss a Business Central ERP project, or to arrange a demo, please get in touch.